MBA in
Finance and Financial Instruments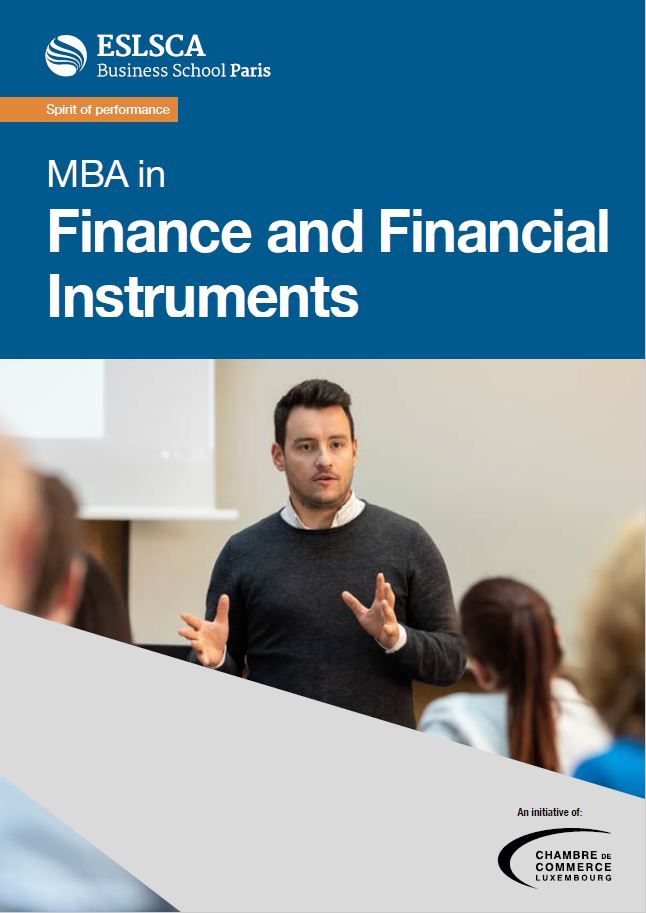 At a glance
The programme is entirely devoted to mastering financial instruments in the broad sense. It also highlights the regulatory and compliance framework and especially its practical implementation in Luxembourg.
The diploma is based on both ESLSCA Paris teachers and practitioners. This will place the theoretical and conceptual aspects in perspective, and give access to experienced practical experts who can put the training in the context of markets and daily challenges faced by the country.
We are at your disposal

For further information on the study programme or the registration procedure, please contact:
Florence Juillien

+352 42 39 39 451

info@isec.lu
OBJECTIVES OF THE PROGRAMME
Define the main characteristics of financial instruments used in financial markets: plain vanilla & exotic products, Delta One products, derivatives and structured products

Gain an in-depth understanding of how each instrument works and how to use it: from a stand-alone product to special financing structures



A

cquire a sound knowledge of the regulatory and compliance framework and how to use it in Luxembourg

Identify the major associated risks and mitigation strategies and techniques




Understand and handle upcoming technical developments and challenges in the finance sector (fintech, big data…)



OVERALL STRUCTURE OF THE PROGRAMME: A 15-MONTH LEARNING JOURNEY
360 course hours and 240 hours of personal work over 5 main topics

Derivatives instruments, regulation and compliance (75 course hours)

Structured products and and alternative investment (75 course hours)

Fundamental and technical analysis, equities, bonds and other liquidity management instruments (90 cours hours)

Processing of computer data (90 cours hours)

Risk management and compliance in Luxembourg (30 cours hours)

ADMISSIONS
Diplomas recognition (baccalaureate +4/5 equivalent at least)

Professional experience recognition (baccalaureate +2/3 equivalent at least + professional experience in related areas)
ADMISSION PROCESS
Carefully complete the online application form, include the required documents and send your file to ISEC Administration

If you are declared eligible, you will be invited to a personal interview with academic representatives from ISEC and ESLSCA as well as professionals from the sector

An admission committee will announce the final results.

PLANNING
Intake: Autumn 2019

Graduation: December 2020

Courses frequency: on Fridays afternoon and on Saturdays all day every second week (except during school holidays)